A few hours ago Bitcoin blasted through resistance again to record a new high for 2019. Crypto markets are on fire this Monday morning as total capitalization hits its highest level since July 2018. Is BTC poised to touch five figures again this week?
Bitcoin Surges to 12 month High
According to
Tradingview
Bitcoin touched $8,940 a couple of hours ago before a slight pullback. It is the highest price BTC has traded at for over a year. The last time Bitcoin was anywhere near $9,000 was in early May 2018.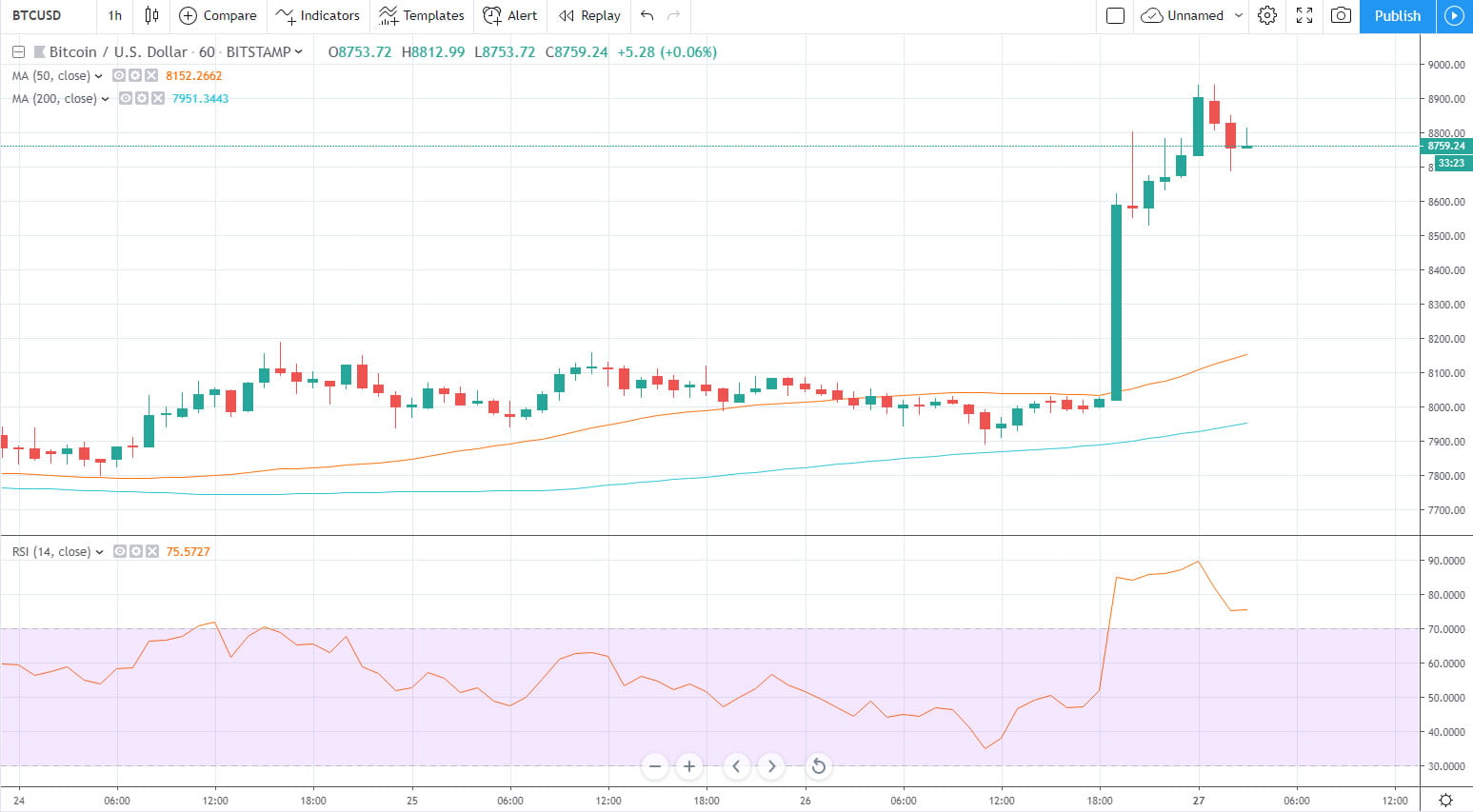 Bitcoin prices 5 days – Tradingview.com
The move started a few hours ago when
Bitcoin surged
from an intraday low of $7,930 to top out over $8,900 in an epic 12 percent pump. Daily volume has cranked up to almost $30 billion and BTC market capitalization is at $155 billion, more than the entire crypto cap was just two months ago in March.
Analysts have been scouring the charts to see where BTC will go next. Long term crypto trader 'CryptoFibonacci' expects a retest of the moving averages;
"Things are massive bullish right now and there is no need to fight it or try to predict a pullback. But, when they do, here is what i see. A move to 9500, rejected hard. Then a big pullback to some ema and Fib support. Consolidate for a little while,"
A correction has been predicted since Bitcoin started its upward march in early April. It hasn't come and those minor retracements to $7k have not lasted long before the bulls got back into the driving seat. Trader Josh Rager has also
predicted
higher moves above $9,000;
"Some people were screaming triple top when the more obvious conclusion is retest after restest of resistance will finally lead to a break to the upside. Bitcoin could cool off, run sideways but IMO will continue to move up over $9k"
Things could all be ruined by the CNBC counter trade indicator though which is adding to the sentiment that Bitcoin will push past $9k with ease;
Either way, the Monday morning momentum is strong and all of the altcoins are in the green at the time of writing, following their big brother as it chases down those
double digits
.
Top performers right now include Litecoin which has continued surging 12 percent today and is now trading at $115. Another fomo inducing tweet from Justin Sun has sent Tron on a 14 percent run to reach $0.032 and Bitcoin SV has cranked up 17 percent today taking it to $107.
Not far behind are Bitcoin Cash, EOS, Cardano, and Monero all cranking over 8 percent at the time of writing.
Bitcoin Surges to Highest Price For Over a Year, Will it Reach $10k This Week? BEST WALLET, bitcoin cash wallet, bitcoin wallet, btc wallet, buy bitcoin, buy cryptocurrency, coin wallet, crypto wallet cryptocurrency wallet, Digital Wallet, ether wallet, ethereum wallet, safest wallet, secure crypto wallet, usd to bitcoin , blockchain, block chain, blockchain wallet, what is blockchain, blockchain info, keywords, bitcoin price , ethereum price , bitcoin news, coinmarketcap , BTC price, coinbase, bitcoin, Scam News, BTC