Market corrections are a natural part of their movements so we should not be surprised when they occur. Analysts and traders have been predicting this all week and it has finally been set in motion as Bitcoin and crypto markets tumble today.
$30 Billion Dumped as Bitcoin Drops
Total market capitalization has declined by over $30 billion in 24 hours as mass profit taking occurs from assets that have been on fire all week. From a
2019 high of $264 billion yesterday
market cap has dumped to $230 billion today as cryptocurrencies shed double digits. The slid has been expected however and markets are still up over 33 percent since the beginning of the month.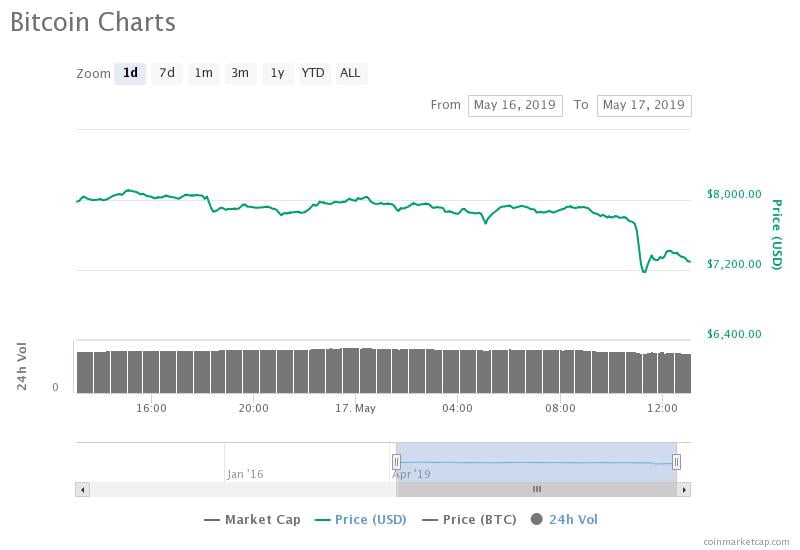 The bitcoin price drops to $7,000 as crypto falls (source: coinmarketcap.com)
Bitcoin has doubled in price since the beginning of April so a pullback is healthy and actually needed. Over the past few hours BTC
dumped 10 percent
, or a thousand dollars, back to just below $7,200. The sharp decline was triggered during the morning's Asian trading session following a day with Bitcoin trading just below $8,000.
Crypto traders and analysts are now turning to the charts to look for support levels which will represent new buying zones. Trader Josh Rager
observed
the fall in Bitcoin's dominance as altcoins surged yesterday;
"$BTC Dominance move down to 52% or below would continue to be extremely bullish for altcoins in the coming weeks,"
At the time of writing BTC dominance was at 56.3 percent, it had peaked out at almost 60 percent earlier this week, which is a seventeen month high. Rager added that the CME futures gap had now been filled and Bitcoin had hit its support level at the bottom of it;
"We're in a Bitcoin recovery phase right now, since the $3100 bottom. Dips should be seen as good buying opportunities, unless we drop below the $6200 support level. Watch out for network congestion and fees hurting this run in the mid term if it moves up too quickly to test $20k."
Most are of the opinion that this dump is bullish and will result in further gains if the uptrend remains intact. BlockTower Capital CIO Ari Paul noted "I'm not sure this dip is bullish, but one interesting datapoint: I was in a room with 30 crypto people and no one batted an eye. Strong underlying confidence."
As usual the altcoins are getting hit harder. At the time of writing most of them were dumping double digits with
XRP
, Stellar and Cardano dumping 14 percent. Bitcoin Cash, Litecoin and Binance Coin had all lost over 10 percent on the day as the correction continues on red Friday.
Image from Shutterstock